it all depends on GeoIP BD and your provider, my provider is located in another city ~300 km away from me and shows another location
Sir, I know very well how GeoIP works. Every major DB I tested shows the correct country. I would not make this post if that wasn't the case.
Sir, you're right, I checked it from my server in Poland and it showed Berlin


same , just im in Hungary , not in Germany
Geoip does not always show the exact location.
Oh really? I didn't know that…

@JaXnPrivate indeed it is not accurate. Most of the times it shows one of the bigger cities in like a 100 km radius I'd say.
But this:



is not even close.
Every DB I could find gives something along the lines of:
IP Location Results for ---.---.---.---
==============

City:         Darmstadt
Zip Code:     64291
Region Code:  HE
Region Name:  Hesse
Country Code: DE
Country Name: Germany
Latitude:     49.9111
Longitude:    8.6573
GMT Offset:   
DST Offset:   

This is not perfect, but what I expected.
Maybe the panel could instead show the logged IP like Google and Microsoft and list the Location beneath.
I'am from Germany too and get Vienna
My location is great too! I am right next to Munich and connect over Berlin (yesterday I somehow even logged over London, I guess I did a short trip there

).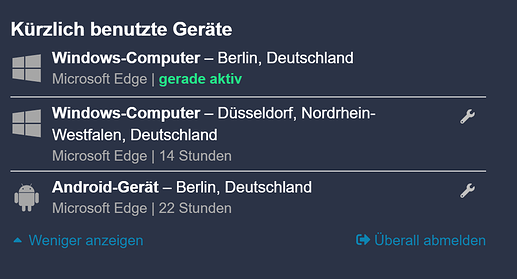 Same Problem in this Post explained:
Company Subnet (exists since 2001 and never changed) shows up as Zurich, Switzerland but it is Frankfurt, Germany
We've just updated the forum config - can you see if it's any better? As many have you have said, GeoIP will never be perfect, but hopefully it should be improved!
Can confirm that the static company Subnet is now correct.
Can also confirm that my location is now correct.
Excellent, thanks for confirming!
It says I was located in a village near where I live, only takes 3 minutes to get there from me. So it is accurate in UK but not other countries
my location is now correct