The reply button gets blocked on mobile by the reply counter on the last answer of the topic!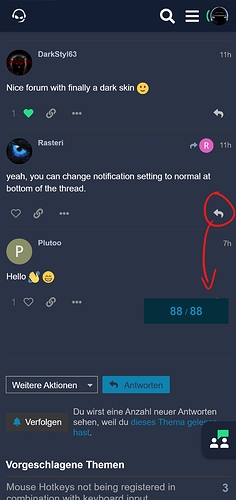 @Adam
@matt.evil
I also have a similar issue on my Surface. When answering the help and support button floats over my text box.
It's not as bad in landscape orientation but you guys might want to do a bit more testing on mobile layouts to see what it feels like.
I rarely use my PC for social activities anymore since I have my tablet and since this forum actually offers to run it in "app mode" it's a little awkward when design elements block each other.

That's the reply to post option. You always have the big blue reply to thread one at the bottom which is visible in your screenshot.
Not saying it should be like that of course, but I would assume that that is something the forum software itself is responsible for, which means we probably cannot change it (don't know for sure though).
I know the big blue button, but I was talking about the reply to another answer button. If I wouldn't want to use it, I would've probably not noticed this bug in the first place.
When in doubt, file a bug with Discourse.

Hence why there is a second paragraph in my post

If you're able to edit css you may edit
#topic-progress, #topic-progress-expanded
and add sth. like
top: 45px;
This solves the problem for me.