Since November 15th I encounter strange bug in new TS Client. When I connect to server, every time I'm getting put to server's default channel and not the one I've set in bookmarks. In TS3 it doesn't happen, but in TS5 it happens with every bookmark.
The day I discovered this bug I contacted via email with TS Support but since then I've seen no response whatsoever, which is kinda annoying.
The only thing I did since switching to TS5 was improving Security Level from 25 to 27 just for the sake of it. The thing is that I use the same identity on both TS3 and TS5 (in 5 bookmarks to be exact) and only in TS5 this bug happens.
It's annoying that this is known for at least 2.5 months (since this is how long ago I contacted Support) and still it wasn't patched or even (I think) described anywhere.
This is how it looks in my settings: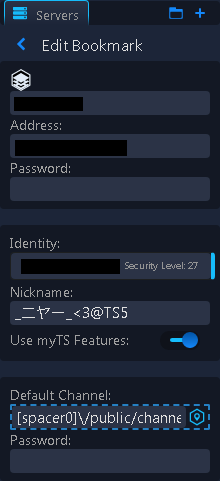 (some things were censored because they might contain personal information).
Thanks for reading!
_ ニャー _ <3